Teeth Whitening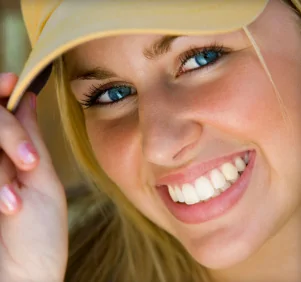 Looking for a great smile? Teeth whitening can definitely help. At Allen Always Smiles we offer in-office or take home treatments that can both whiten teeth dramatically. Tooth whitening helps to lighten teeth and remove stains and discoloration. Whitening teeth has become a popular cosmetic dental procedure because it can greatly improve how your teeth look. A beautiful smile will help you feel confident with your family and friends.
A variety of foods and habits can leave stains on the enamel. They can range from white streaks to yellow tints or brown spots and pits. If the enamel has worn away, you may notice a yellow tint.
These foods and habits can cause unwanted stains:
Coffee or Tea

Dark Colored Soda

Smoking or Chewing Tobacco

Red Wine

Berries
In Office:
If you choose in-office whitening, the process is easy, and you can have a beautiful, whiter smile in less than an hour.  To begin, Dr. Susanna Martirosov will photograph your teeth first. This will help her to monitor the progress of your treatment. She will examine your teeth and find out what could have caused the staining. Cleaning the teeth will follow the exam to help remove bacteria, food or other substances that have built up on your teeth. After the cleaning, the whitening procedure will begin. With
At Home:
At home whitening is the perfect option for patients who want to whiten their teeth conveniently, and affordably.  If you choose at-home whitening, Dr Susanna Martirosov can make trays to hold the whitening gel that will fit your teeth perfectly. This makes your whitening experience personal and private in the comfort of your own home. You will be applying the whitening gel daily for 2-3 weeks, but you may notice improvement within a few days.
Whichever treatment you choose, whether it be in-office or at-home, Allen Always Smiles will be there to guide you through it. We want you to be excited about your new, improved, sparkling white smile. If you are interested in bleaching your teeth, contact our office and we will be glad to help you with your teeth whitening needs.