Dentures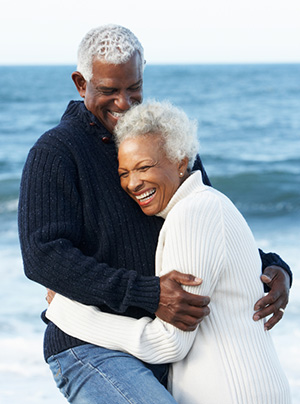 At Allen Always Smiles, we offer dentures to our patients who are missing some or all of their teeth. We want you to feel confident with your smile and be able to enjoy a fully functional smile once again. We offer both traditional and implant-supported dentures to meet the needs of our patients.
Traditional dentures
Dentures are a removable replacements for missing teeth. There are two types of dentures available. Dentures can either be complete or partial. Complete dentures are used when all the teeth are missing. Partial dentures are used when one or more natural teeth remain in the upper or lower jaw. A partial denture helps to fill in the spaces created by missing teeth and prevents other teeth from changing positions. Dentures should be removed each day for cleaning as well as removed at night while you are sleeping.
Implant-supported dentures
A regular denture rests on the gums and is not supported by implants. An implant-supported denture will be supported by and attached to implants.
Why are implant-supported dentures for me?
When a person doesn't have any teeth in the jaw, but still has enough bone in the jaw to support implants, an implant-supported denture may be used. You can wear an implant-supported denture in either the upper or lower jaw.
How do I take care of them?
You need to remove an implant-supported denture daily to clean the dentures along with your gum area. Just like traditional dentures, you should not sleep with an implant-supported denture at night.
We hope you choose Allen Always Smiles to help you with your denture needs. We are here to help answer any questions you might have regarding your choices. Please feel free to call our office at your convenience.