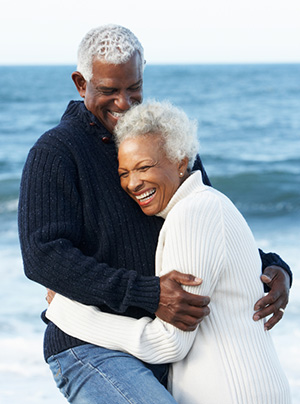 At Allen Always Smiles, we want you to feel confident about your smile, and we know that can be difficult if you are missing some or all of your teeth. We can replace those missing teeth with dentures. We offer two types of dentures as a restorative dental procedure:
Traditional Dentures
Implant-Supported Dentures
Each of these two types of dentures are unique in their own way and have different benefits that can make one a better choice for you over the other.
Traditional dentures
Traditional dentures fit over the gums like a mouthpiece and require a dental adhesive to hold them in place. Since traditional dentures rest on the gums, it is recommended that they are removed for cleaning. Food particles could get stuck between the dentures and gums, so removing them allows for those trapped food particles to be rinsed away. It is also recommended that traditional dentures be removed when you go to bed at night. There are two types of traditional dentures:
Full Dentures – recommended when all of the upper or all of the lower teeth are missing.
Partial Dentures – recommended when only a few teeth are missing.
Benefits of Traditional Dentures
In some cases, the bone of the jaw might be too weak or damaged for a dental implant procedure. This type of situation would benefit from a traditional denture because it only has to rest on the gums and does not have to rely on a strong jaw. Dentures can also help reduce gum disease and weakening of the jaw. Traditional dentures help support the muscles of the face and jaw, which can make you look younger and healthier.
Implant-supported dentures
Unlike traditional dentures, an implant-supported denture is a more permanent solution because it is attached to a dental implant. Implants are placed in the jaw and act as a secure anchor for the dentures. Implant-supported dentures can be removable or permanently fixed, depending on your smile needs.
You don't have to be embarrassed or inconvenienced by missing teeth. Just give us a call or stop by our offices for an appointment, and we will have those missing teeth replaced! We will recommend the denture option that is right for you!