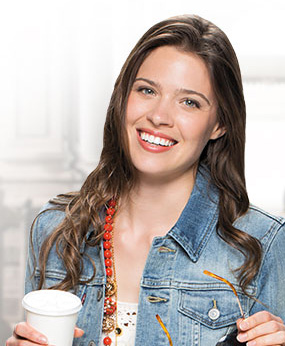 If bracket and wire braces are not what you're looking for, then Invisalign aligners might be a good option for you. At Allen Always Smiles, we can treat several orthodontic conditions that are usually treated using traditional bracket and wire braces. Invisalign makes then an excellent and efficient alternative.
In the Invisalign system, comfortable, clear aligners are designed specifically for your smile. Rather than a bracket-and-wire system that needs to be adjusted in-office, the Invisalign system provides a series of aligners that are changed out every 1-2 weeks, according to the schedule your smile needs. These aligners gently shift your teeth into place to give you a fabulously straight smile.
Reasons Why You Might Need Invisalign
There are many reasons why we might recommend Invisalign aligners for your orthodontic needs, but here are just a few:
Overbite – when the upper teeth overlap the bottom teeth in the closed mouth teeth-clinch position.
Underbite – the opposite of the overbite; the bottom teeth overlap the top teeth in the closed mouth teeth-clinch position.
Crowded Teeth – the teeth are bunched together, which causes them to become crooked and misshaped.
Gapped Teeth – natural large spaces between the teeth, which can contribute to tooth decay and gum disease.
Crossbite – when the upper and bottom teeth don't align in the closed mouth position. Correcting your crossbite could also help relieve jaw pain caused by misaligned teeth.
A few of those conditions can make chewing and speaking difficult. No worries though, because Invisalign aligners are excellent for correcting all of these conditions. If you decide you want to try Invisalign to correct your dental condition, we will be sure to give you all of the information you will need to make an educated choice.
The Benefits of Invisalign Aligners
There is a visual benefit to Invisalign aligners because they are transparent and less noticeable than traditional braces. Invisalign aligners can also be removed for eating or for brushing and flossing after eating. This is particularly beneficial for effective teeth cleaning
Explore your orthodontic options at Allen Always Smiles. Give us a call today to see if Invisalign aligners are the right orthodontic treatment for you!